You've created an article long time ago and it needs to be updated? Content writer prepared article but you want to make revisions and show to copywriter what exactly was changed and not to make the same mistakes? These are only few use cases when you need version control in your Knowledge Base.

UseResponse allows to save an older version of a published article in knowledge base so your support agents along with customers could easily track content changes.
---
Administrator can switch off the ability to control versions in Administration » System » Knowledge Base.
---
Create New Version
To save the previous version, please click New » Version on the article's page in agents interface and define the following attributes for previous version:
Note - the name of the version. You can leave it blank and system will use the title of current article;
Version - version number that keeps track of the order of all versions. It could be useful if article's revisions depend on your product updates (e.g. change from 4.7 to 4.8);
Visibility - private revisions will be available only for support team in agents interface. Public versions can be displayed for customers in the right side of the article's page in case you enable Versions widget in Administration » Fields & Properties » Knowledge Base.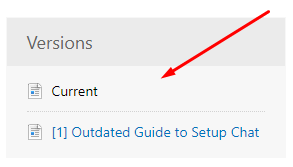 Once version is created, you would stay on the current published article for its further update. To distinguish between current article and its previous versions, every revision is marked with Version icon.
By default administrator and agents can manage knowledge base section in agents interface.
Enterprise customers have the ability to create custom roles with "Create Knowledge Base Versions" permission and apply them both to agents and users:
such agents wouldn't be able to create new categories in your documentation, submit new articles and faqs. But they could create new versions of the article and update its content;
end-users with high level of expertise can contribute article's versions to your online documentation. In order to submit new version, user with "Create Knowledge Base Versions" permission has to click "New Version" button on the full article page in the frontend, enter title, content of the article and click "Save Changes" button. Please keep in mind such versions are always private so only administrator and agents with "Manage Knowledge Base" permission could restore them and make available for all customers in your Help Center.
View Previous Versions
Click View link in the left side bar on article's page and you'll see the list of archived articles and dates of their creation. By clicking Settings icon you'll be able to change the order of versions or delete them one by one quickly.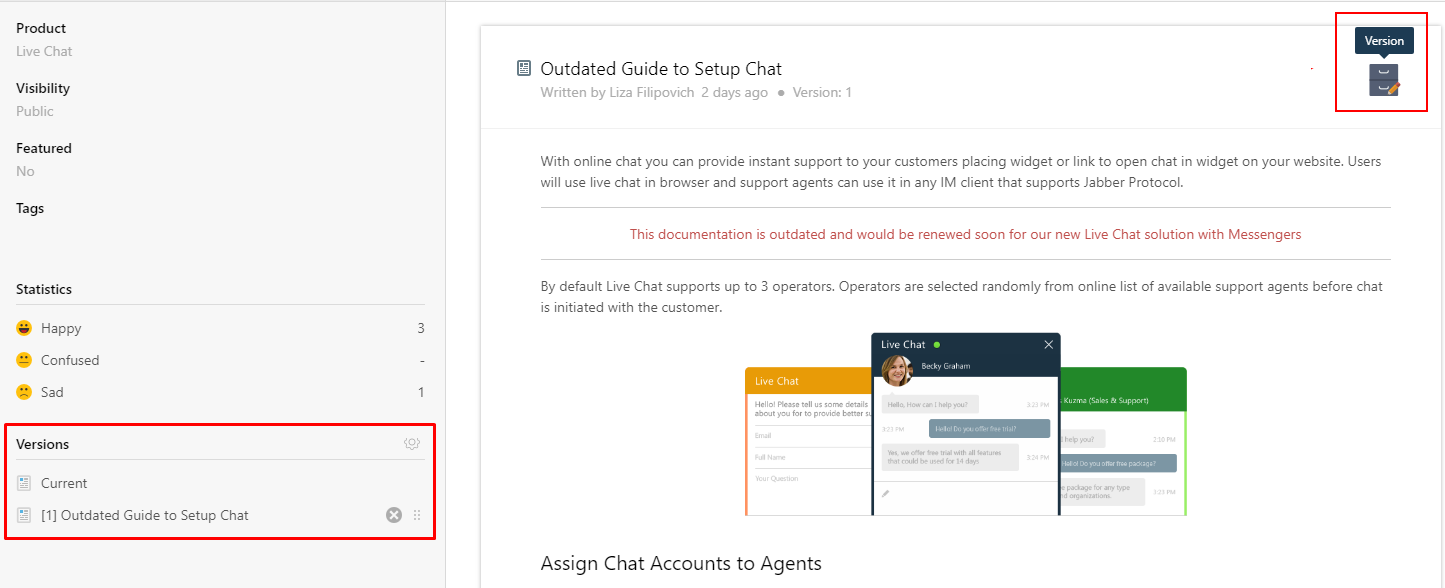 Once you select one of the previous revisions, you could perform the following actions:
modify revision's content, title or edit its number, visibility, tags, attachments;
revert the old version - click Restore under Options and the version will be republished;
delete the old revision.
AutoSave
System automatically saves all the changes when agent updates an article.
---
You should keep in mind AutoSave doesn't work for previous versions of articles
---
AutoSave appears in the left side bar once agent starts to edit title, content or tags of the current published article. The option is enabled every ten seconds while agent is working on the article.
The feature could be useful if the power went out or you closed the article accidentally without its saving. To avoid losing all you changes, just open AutoSave version and click Restore under Options.