Every business or organization has its own working hours that can be taken into account while building SLAs or setting up your automation rules. UseResponse allows to define your business hours for the whole team or different agent groups if required.
Business Hours affect assignments, automation rules and company SLA's.
Management of Business Hours is available only for Enterprise customers.
Default Business Hours
To define business hours based on your active time period for each day of the week, please go to Administration » Business Hours and enable the option. Here you'll see predefined business hours profile according to which your agents are available to provide support 24/7.
In case you want to set working hours for the whole team, you need just edit default profile.
---
To configure business hours, you will need Administrator role. Agents can manage days off of other agents if they have permission Manage Business Hours.
---
By clicking and dragging the cells in a weekly timetable, you can select the days and hours your team will be active. For example, your working hours are from 9-18 a.m Monday-Friday, then you scheduler will look like as shown below:

You can also set up holidays as exceptions to your scheduled profile which will not be counted towards SLAs and team metrics. During holidays and days off business hours profiles won't work as whole days would be considered to be non working day.
Vacation Assignments
Vacation Assignments option works within your automation & notification rules. Once option is enabled and the agent defined in trigger's actions has days off or on holidays, the system will find available agent within the team to perform automated actions. If you have at least one group in Administration » Roles & Groups » Groups, there will be possibility to find available agents within the group.
In case the whole team is out of business hours and there are no available agents, you can configure the settings in one of the following ways based on your workflow - don't change the assignment or set responsible to nobody once new object/comment is submitted.
When all business profile settings are defined as necessary, please don't forget to click Submit.
Multiple Business Hours
UseResponse allows to create as many business hours profiles as you need which can be assigned to specific groups.
There are lots of reasons why configuring another set of business hours would be necessary.
For example, your company provides round-the-clock support, so most likely you have special teams working in different shifts (day and night). Or maybe you split up your team by functional responsibilities (technical support, customer service, marketing etc.) and one of them are available for extended hours. In these cases evidently it makes sense to set different business hours profiles for each of the team.
To add a new set of working hours, you need to click New » Profile in the top right or new profile link on the page. Please enter a profile title, define required schedule, holidays for the team and check the groups to which the profile will be assigned.
Days Off
All agents can manage days off in their profiles under Options » Manage Days Off. Agent can add only one set of days off at a time, next weekends can be selected only after the previous ones passed.
Days off of the whole team are displayed for administrators on Days Off tab in Administration » Business Hours. Administrator can add new days of rest, edit, delete them and filter by agents.
When business hours are enabled in the system, you'll be able to see in agents profile if he is available at the moment or not.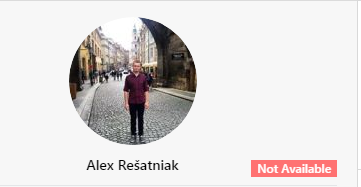 SLA Rules
In order to count SLAs only when your team is active, you need to define hours of operation in SLA rules. Please go to Administration » SLA Rules, click edit icon for the existing rule or create a new one and for every value of the ticket field select required hours of operation.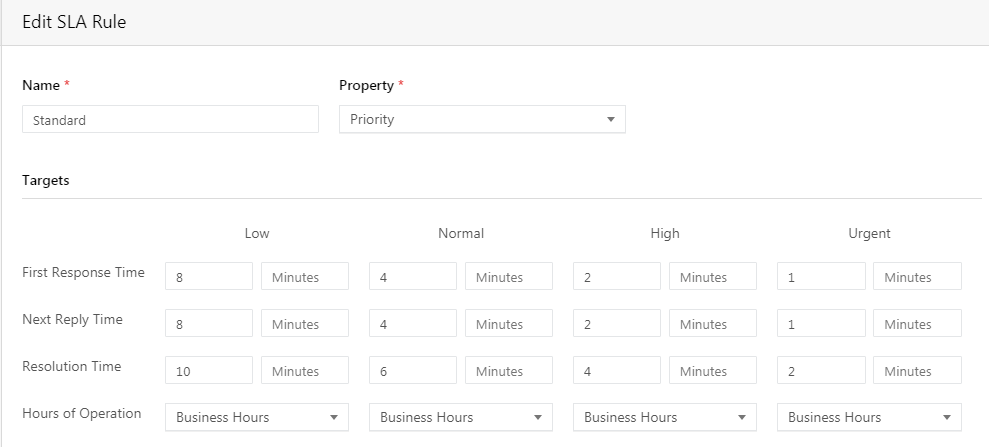 When business hours are selected, then anything outside them will not be timed by UseResponse.
Automation Rules
Once you've set up your business hours, you can define the triggers to perform specific actions when your team is active or offline. For these purposes there are following conditions available in Administration » Automation & Notifications:
Object: Created On - Within Business Hours (Yes, No, Select Profile);
Comment: Created On - Within Business Hours (Yes, No, Select Profile).
For example, if your team works regular 9 hours a day and you care about your customers even outside working time, you can create the following trigger e.g.: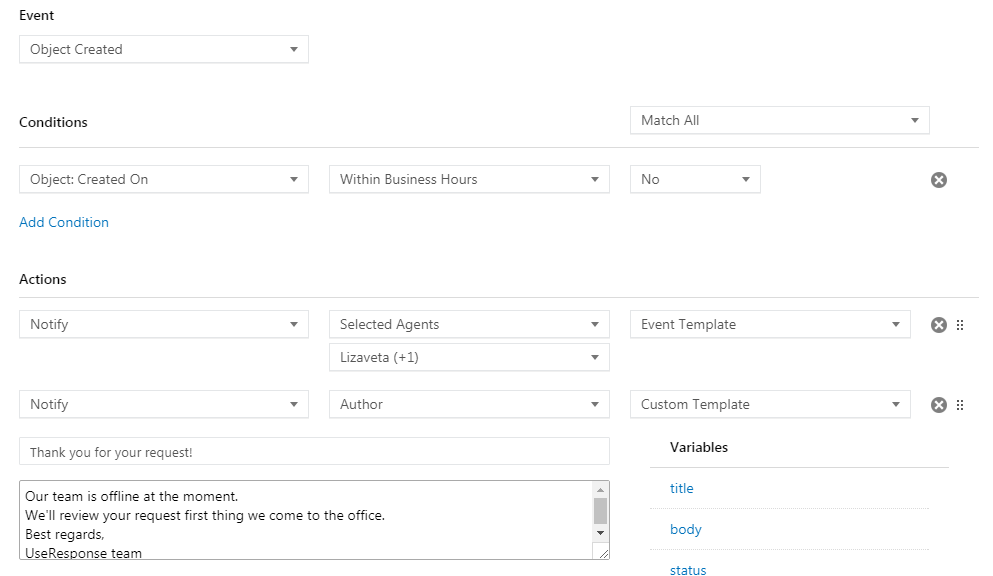 This way you can increase customer's loyalty paying required attention to his request.
So you can build your own triggers according to your business workflow based on whether an event occurs during business hours or outside of them. More information about triggers could be found in the article.