UseResponse instance goes with a predefined list of applications (more than 50) that can work for different types of use cases of your business. The availability of applications depends on the plan you are subscribed to - one solution (Feedback, Help Desk with Live Chat or Knowledge Base) or Complete Suite.

General Information
All applications can be managed in Administration » Applications and are organized into 3 main groups:
Support Channels

- define the way how to use UseResponse software and activate the items you actually need to capture customers' feedback or organize the self-service portal.
Tools

- support agents have various tools to set up the workflow of requests management, to measure customer satisfaction, track team performance, get an overview of forum trends, etc.
Integrations

with popular third-party services for CRM management, bug tracking purposes, embedding external knowledge base, etc.
For example, if you purchased Help Desk solution of UseResponse and need to deliver instant support via messengers and live chat widget, just leave only Live Chat application enabled and set it up in the way it should work according to your customer service workflow.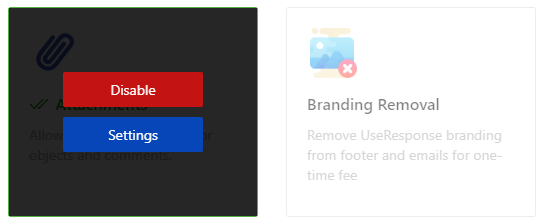 UseResponse provides the opportunity to gather different types of feedback like ideas, problems and questions. If you want to capture only user ideas, you need to keep only the Ideas application activated. In this case, every request submitted in your feedback center will be saved as an idea.
Application Settings
You can do the following actions in Administration » Applications:
Enable applications available for the activation and they will appear in the left side of the administration area or in the Menu list for further configuration;
Configure apps settings directly in Administration » Applications by clicking the Settings button on the item's image. You'll be able to define the main settings in the pop-up or you'll be forwarded to a separate setting page;
Disable the application if it's not useful for your business workflow;
Search for necessary applications.
Custom Applications
There are several applications that can be activated only upon your request:
Custom Applications to extend the current software functionality developed due to your specific workflow on a paid basis. We provide the cost and time frame estimation after receiving the list of your detailed requirements for custom development;
Branding Removal to remove UseResponse logos from the bottom of every page of your website and from all email notifications in the system. It's a one-time fee to enable the feature;
WhatsApp integration can be enabled only for active subscribers upon their requests to [email protected] as we need to set up a specific environment for proper integration usability.
If you want to extend the system and integrate it with your own applications, please use our API Guide.