UseResponse 4 - New Interface, More Flexibility & Control
12 months of design and development, 3 months of beta test period, 1 new Enterprise package and new billing is only couple of multiple challenges we had to accomplish when we started with UseResponse 4.0.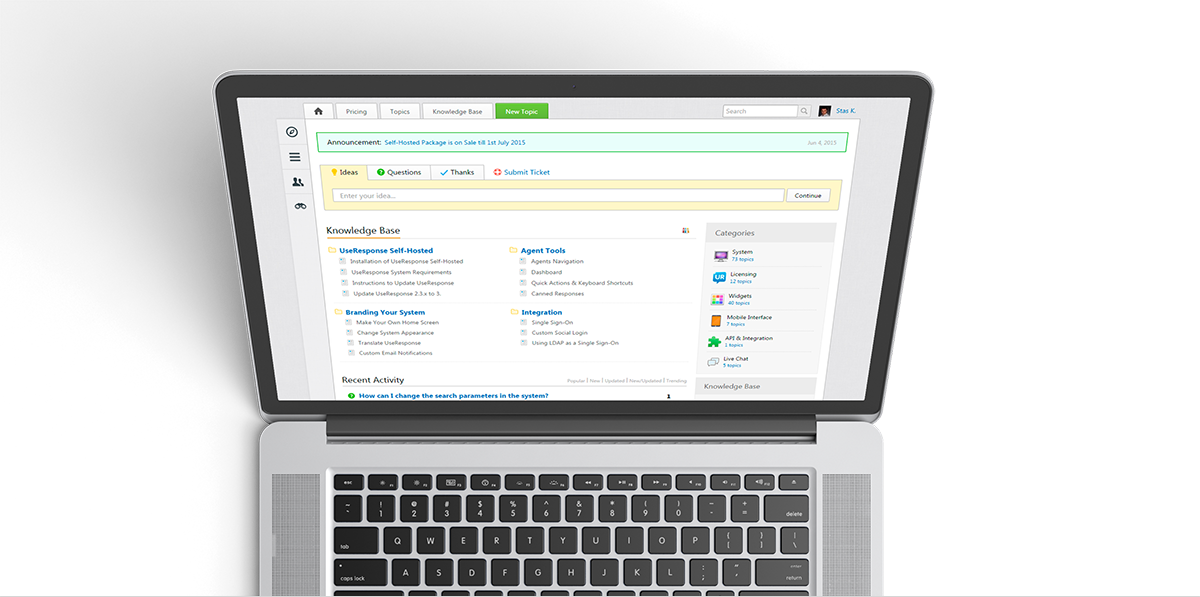 Finally, it's live for everyone - Cloud and Self-Hosted current and new customers.
UseResponse now is eco-system with 4 products divided and purchased separately:
Feedback Platform - ideas, questions, problems captured from public or private community or from embeddable widget;
Help Desk with Ticketing - support customers from community, embeddable contact form, social networks or email;
Knowledge Base - organize multilingual knowledge base in community or integrate with widget in your app or website;
Live Chat with Messengers - send targeted messenges, provide live support not just in widget, but also in Viber, Skype, Telegram, Whatsapp, FB Messenger.
What's New In UseResponse 4.0?
Expecting something revolutionary in customer support in 4.0? There are things you won't find in any other solution, like combined email support between users outside of the system, built-in CRM in support center, but let's see the major features:
Agents Interface
Manage all requests of your support center in one intuitive agents interface that provides ability to create custom objects or users reports, check analytics and dashboard and manage all the content within the system.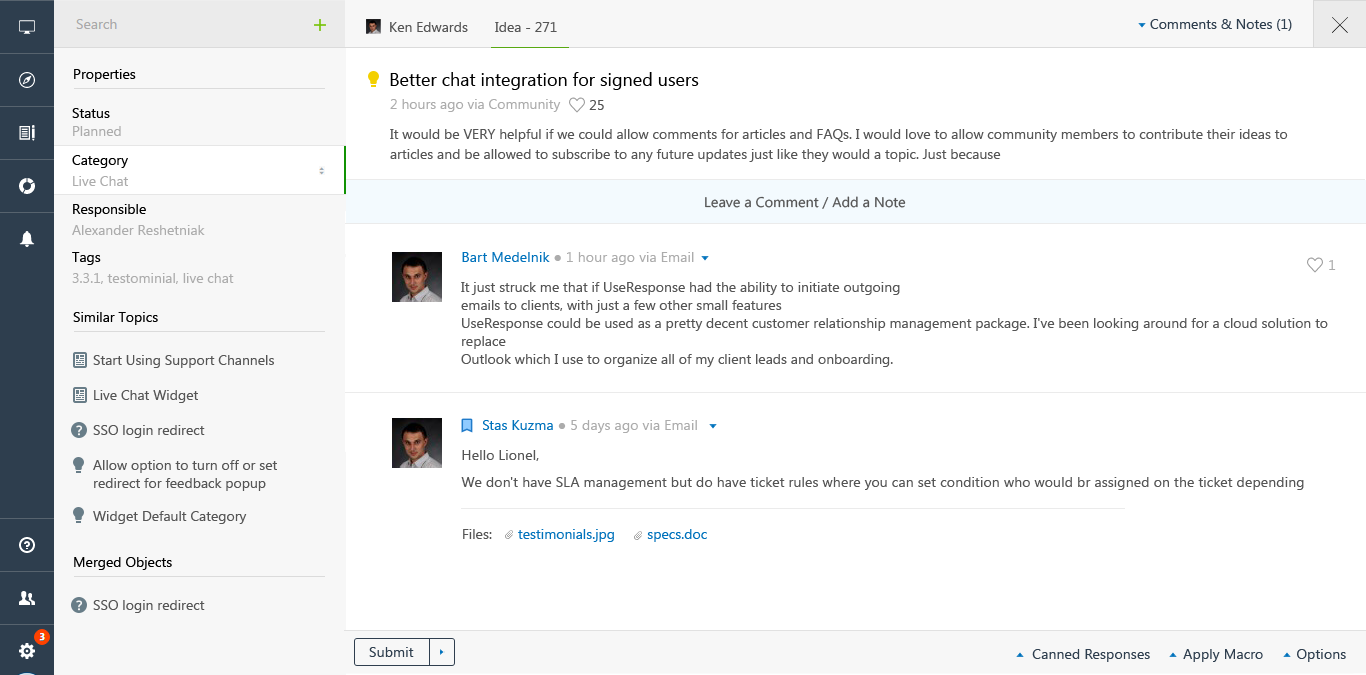 Automation Rules & Notification
Your company has a specific workflow on how to handle feedback or incoming email requests? We've got it covered with automation rules. Setup new triggers to define who will receive notifications and be assigned based on set conditions.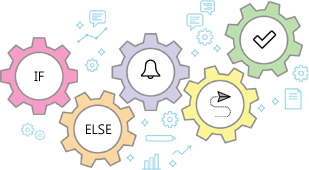 It's not just a tool to define the support stream to go to the right agent, but also a marketing addon for your company to set scheduled actions to be launched after a specific time.
Multi-Forums & Multilingual Support
Create unlimited communities for specific languages and organize support centers for each of them. Any of the forum could be customized it's own way.
Forums could be used for internal discussions and pubic community. One forum could be used as a help center with knowledge base and another to just gather feedback. Hundreds of use cases are at your disposal.
Find out more about how to set up Multilingual Knowledge Base to make it work for international teams.
SLA Rules
Provide your VIP customers with premium support by setting up Service Level Agreement Rules based on tickets priority. Handle requests in reports section by displaying SLA Time left and set up notifications to ping your support agents on replying to customers.
Assign SLA Rules not just for users but also companies.
Tickets Visibility
You do have a team that handles only feedback requests and another one works with only incoming tickets? Maybe you want divide teams in specific visibility groups based on coming requests?
Tickets visibility allows you to define which groups of users can see the ticket within their area. If ticket is within the group - only required support agents would see it.
Notification Center
Our feature that is going to replace annoying email notifications coming to agents inbox 50 times a day and gets the process messy.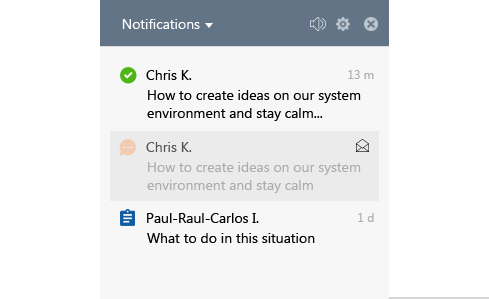 All your requests are now in notification center - read, browse, get instant notifications without page refresh and use push notifications from your browser to get notified about new requests, comments, etc.
---
We also have plans to integrate much more tweaks and features in 4.x line like Extended Analytics Section, Forum Metrics, Users Performance, Built-in Companies, Dashboard Management, Customer Satisfaction Ratings and Surveys. This is a short list of our plans for the upcoming months.
If you want to get more frequent updates, follow or like us on Facebook
Would it Affect My Current Instance?
Self-Hosted
If you are on 3.x self-hosted and already purchased our platforms, you would have them in 4.0 version with all the addons.
The only limitation we put here is support of custom module, as they are available now only in Enterprise package..
Cloud Package
You won't see the difference as we have upgraded instances to Standard cloud package with all previous addons included, as now they are within the package. After your subscription expires, you would need to choose which platforms out of 4 our products you do use.
If you require Enterprise features, please refer to the following Comparison Table
How to Upgrade to 4.0?
The upgrade process is hassle free for both packages.
Self-hosted users can get in in My Account or use builtin Upgrade tool. Cloud instances are upgraded in the following period: 20-25 March 2017.
Whats Coming Next in 2017
Updated Frontend with predefined templates and flexibility in customization;
New embeddable widgets;
Integrations with many services like Google Drive, Dropbox, Slack, Jira and many more services.