New UI, Themes & Widgets in UseResponse 7.0
This year we've dedicated all our efforts to bring absolutely new UI to the community portal, make it easier and more understandable for administrators to build home screen pages, and added more features to the knowledge base UI.

We should admit that the previous portal design was rather outdated and old school. That's why we decided to give it a new life with a totally fresh look and better usability. So now you can easily choose a predefined theme and upload your custom logos in one place.
Interface Configurator
If you'd like to apply your own color styles, there is no more need to prepare a custom theme folder (on-premise package) or upload custom CSS in the admin area (the cloud version) which requires some development knowledge.
UseResponse gives a simple way to choose a predefined color theme and a set of home screen widgets (presets) in one click even without having any developers' skills.
Redesigned Knowledge Base
Along with the new UI, we expanded the capabilities to structure your knowledge base and display it more smoothly on the main forum page.

Now there are 2 different types of articles home screen widgets - 'Featured' to show the most important docs and 'Articles' with 5 modern ways of styling.
New Embeddable Widgets
We used to have separate widgets like Knowledge Base, Support Center, and Live Chat widgets with their own management areas which was not convenient.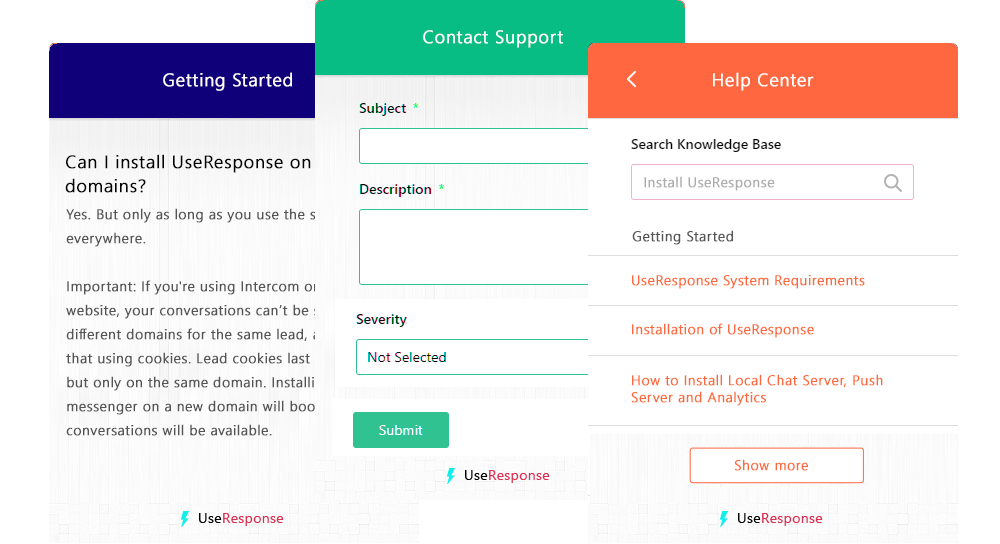 So, we merged all these widgets into one handy widget and now UseResponse administrator can set up the widget's appearance and behavior in a single place. Besides, there is a new option to add your custom URL as an additional channel along with feedback and contact forms.
Live Chat Queue
Now any user who initiates a chat conversation in the widget or a messenger will see his number in the line and the average time to wait for an agent reply.

With UseResponse you can manage customers' expectations of how long they need to wait to get a service and their position in the queue.
and much more ...
Real-time updates in agent reports;
Added moderation options in the mobile UI;
Temporary ban of users for a specific number of days;
More flexible ways for agents to decide what should come in the export results.
---
All features and improvements can be found in our release notes