Customer Satisfaction Rating & Integrations in 4.7 Release
Our customers were blind about any user experience after idea was completed or ticket was resolved. From now on, you can get more information if customer stayed satisfied with your solution or team needs improvements in providing support.
No matter, if feedback was completed, ticket got resolved or live chat question is answered, you can switch on customer satisfaction rating, and track users satisfaction rate along with the team performance.
This feature integrates deeply in every part of UseResponse giving author of the request the choice to submit Satisfaction survey once his request got resolved.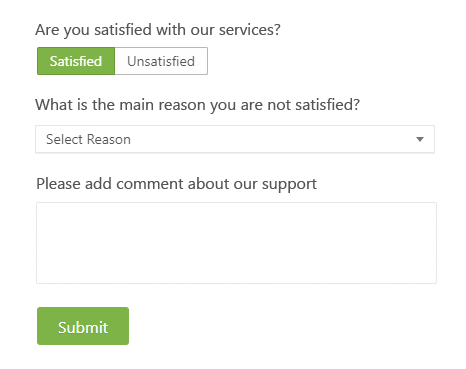 Satisfaction survey could be controlled in Automation rules - when it should be sent and who should get it. It would work for any company by providing the option for 2, 5 and 10 star ranking system.
New Integrations with Other Services
Finally we open integrations for everyone to be used with 3rd party services. Currently we have the following:

Google Drive - store attachments outside of UseResponse in connected Google Drive;
Jira - connect Jira issue with existing ticket or topic or move ticket to Jira issue. You can also check connected issue right on UseResponse ticket page;
Slack - push new live chat messages, feedback topics or tickets from UseResponse Help Desk right to your corporate Slack account.
We also have plans to add more integrations during next 2 months and Salesforce, Zapier are our high priorities.
More New Features
We have added several new features like:
Knowledge Base - version control system where you can create new versions of the same article.
Dutch language support;
Lock Community to stop accepting new votes, comments and feedback;
Connect one forum with another to switch languages;
Convert Live Chat into tickets;
Reply via Email to Live Chat offline messages.