Setting up bot in Skype to connect to UseResponse will require some time, as you would need first to setup microsoft account, and resources section in Azure. For information refer to below section how to make it.
How to Create Account in Microsoft Azure
Go to start page of Azure Environment
Click on Start Free
You will need to enter your miscrosoft business or personal account. If you don't have it, please create it on further steps
Once you've signed in with microsoft id, you'll need to create Azure account
You can start for free. Though you'll be asked to enter credit card which won't be charged, unless you use specific services like technical support, etc. Just refuse on any options advised before entering azure environment;
Once signed up to Azure environment, continue with creating Skype bot
Setup Skype Bot in Azure
When you have created account in Microsoft Azure, you will enter Azure environment. Go to All Resources and click on Create Resources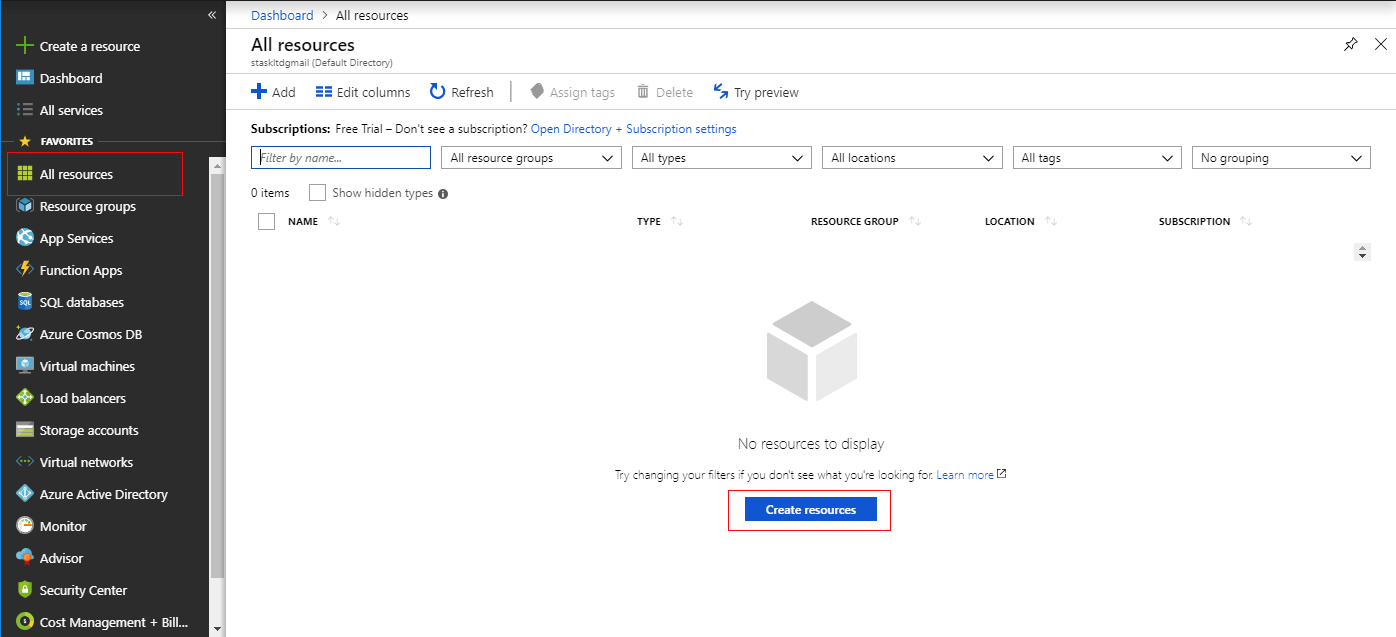 In the search field enter "bot" and select Bot Channels Registration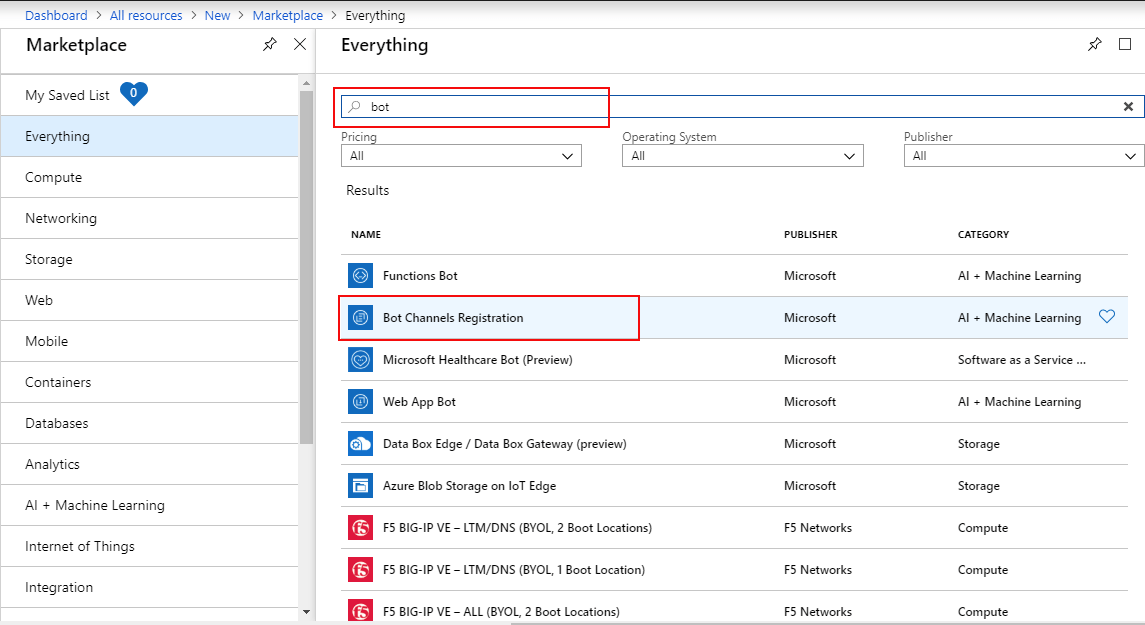 Enter unique Bot name
Then click on "Create new" next to Resource group field and enter unique name of resource group
Select free F0 option in pricing tier.
Bypass entering Messaging endpoint
Turn off Application Insights
Leave auto create app id and password
Hit create button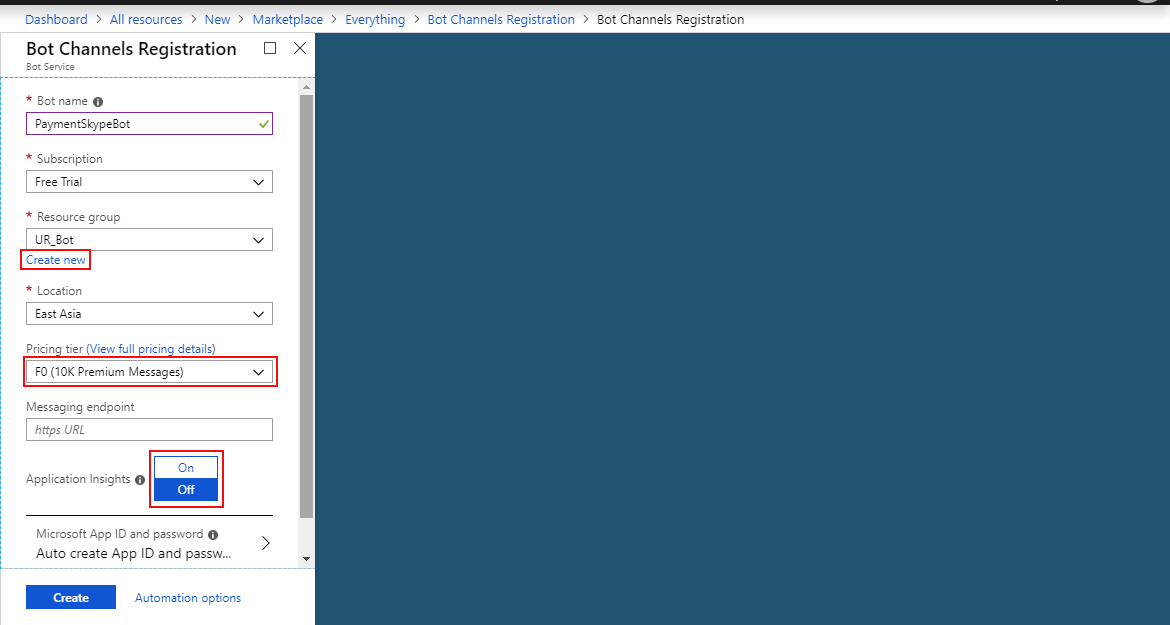 Once resource is created select it in the list and go to Settings. In the settings, you need to click on Manage next to Microsoft App ID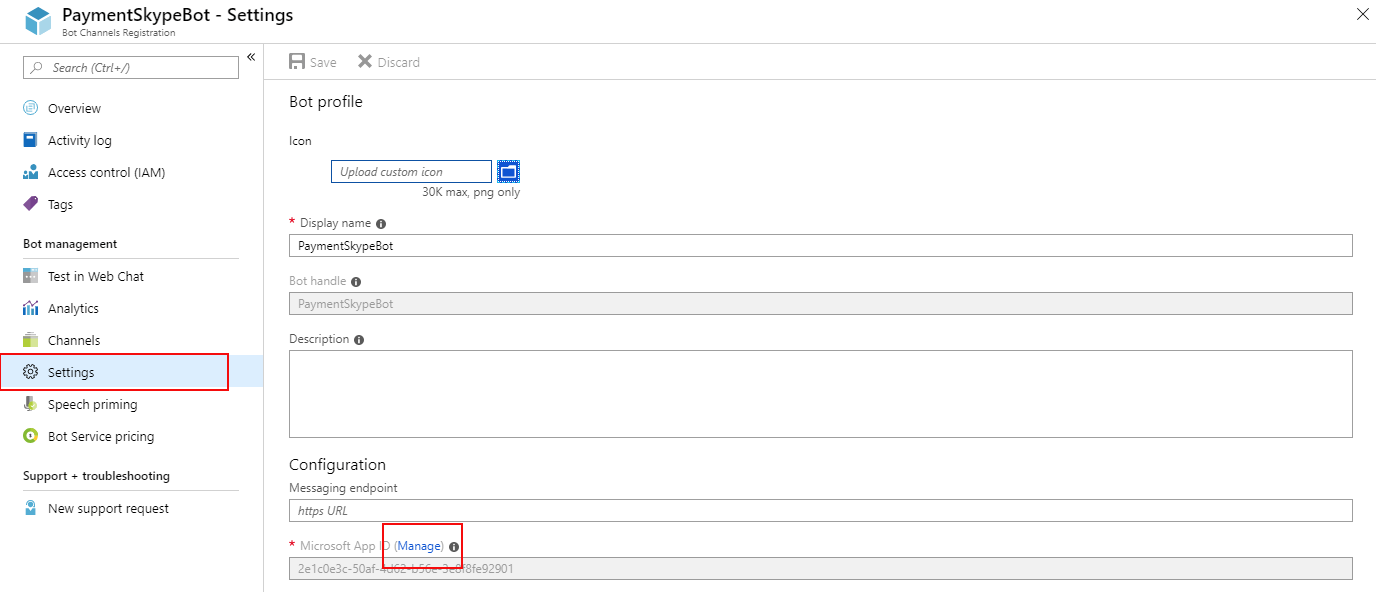 Generate New Password and copy it along with Application Id somewhere as you will need it later

At the bottom of the page uncheck Live SDK support and Save all changes

In UseResponse go to Administration » Live Chat - New - Account and enter title, App ID, App Password that you've saved on previous step and click on Submit.
Once submitted, you will get Messegaing endpoint URL that you'll need on the next step.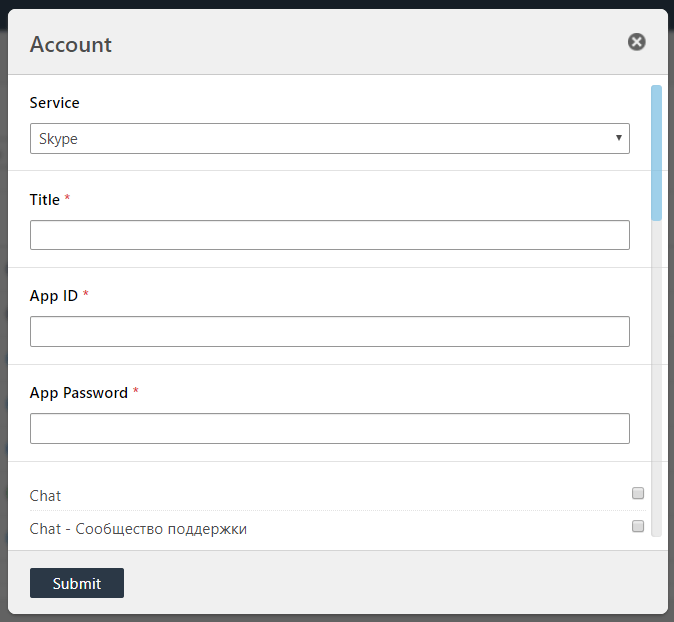 Go back to Azure, and in Settings that Icon to your company logo, add description and add messaging endpoint from your previous step.
Then click on Save.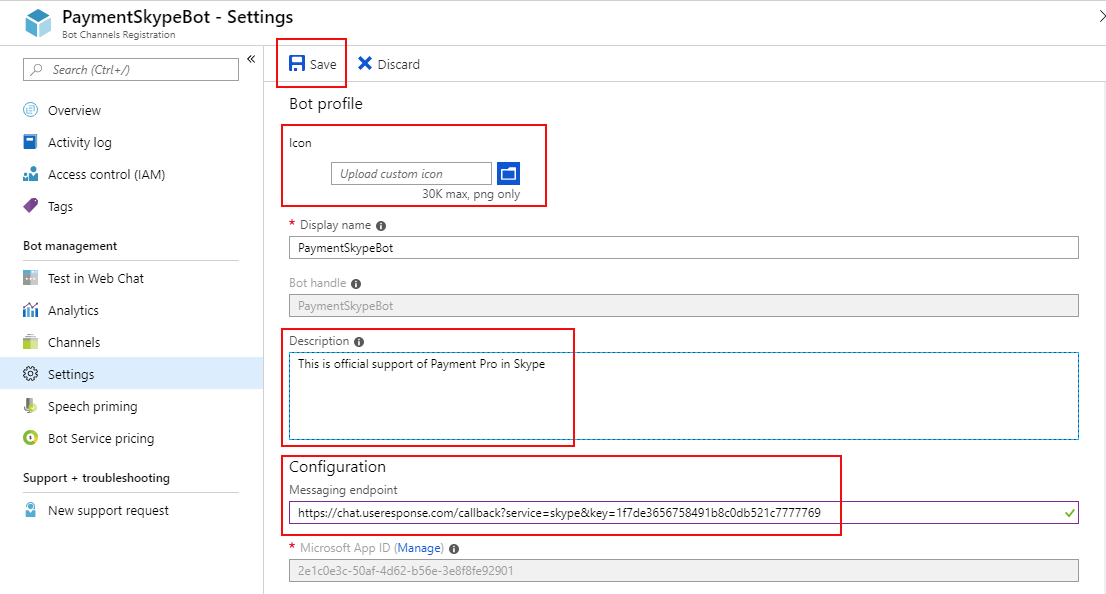 Go to Channels, select Skype as featured channels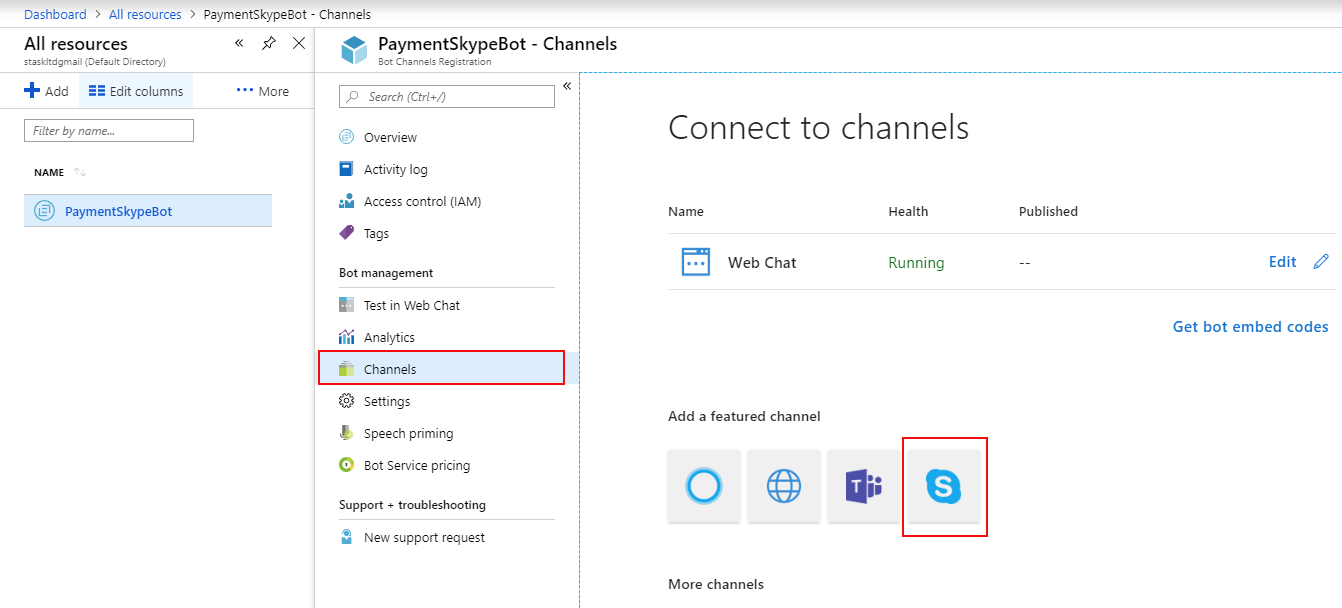 On new page click on publish, validate required fields and save it.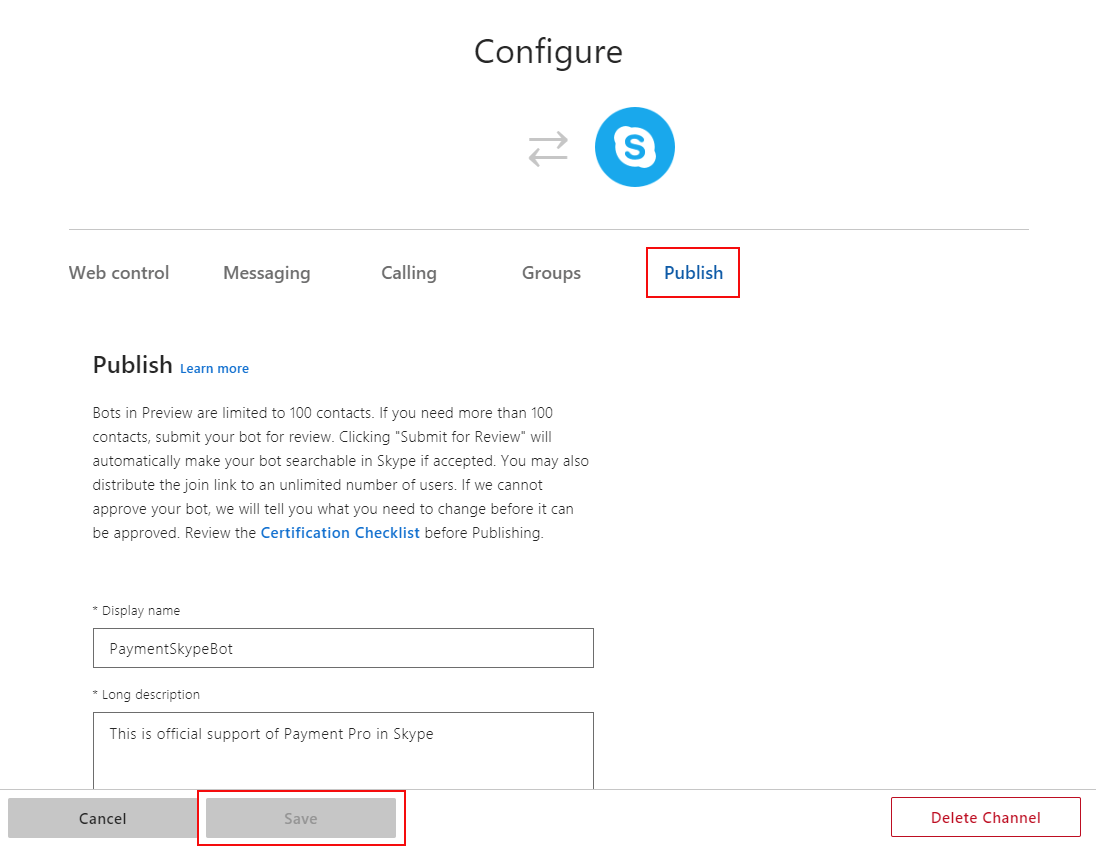 Once saved, you will have Skype channel in your Live Chat widget setup completely and can accept all requests from Skype in your UseResponse environment.