Self-hosted version is a modular system that goes with a predefined list of modules and ability to build your own extensions (Available in Enterprise package).
You can do the following actions in Administration » Modules:
Install - Uninstall;
Activate - Deactivate.
If you uninstall the module, all data related to it will be lost and can't be recovered. To keep the data, just deactivate it, so all features of the module won't be in the system, but the information will be kept in your database.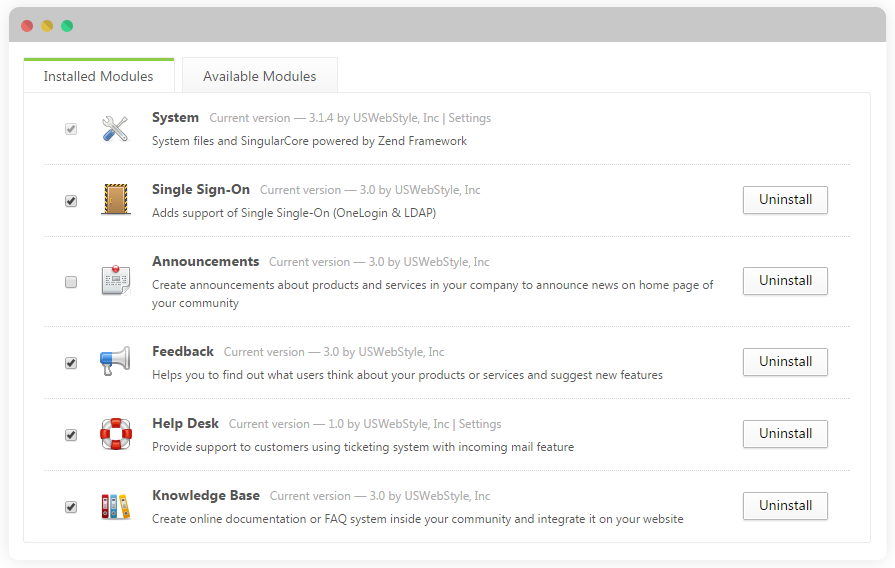 The system could be used as in different ways, so try installing what is actually required. For example, if you want to utilize UseResponse only as a support platform, just leave only Help Desk module installed and set it up in the way it should work according to your workflow.
Installation of Modules
When you purchased addons with core package, they would automatically be in the downloadable archive.
If addons are purchased later, you have two ways to get them in the system:
Make sure you have the latest UseResponse installed. Go to My Account page and download UseResponse package. From archive take new folders of add-ons that would be located at application/[version]/modules and put them on your server at the same directory. For example, if you've purchased SSO addon for 3.3.2 version, you should take application/3.3.2/modules/sso folder and upload it to your environment using FTP or SFTP.
Another way is to use built-in Auto-Update tool if your version of the installed environment is different from the latest available and all addons would automatically get into your environment. You would need just to install them after the system update.
Custom Modules for Enterprise Package
UseResponse allows you to extend existing functionality or implement new features, without having to modify existing core. That would help you keep new features in the system even after the update.
All custom modules should be saved in /custom/modules/[module-name] where [module-name] is your custom module folder and location.
Cloud Users
Our cloud plans don't support custom modules, so if you want to extend system significantly, please use Enterprise Self-Hosted version of UseResponse.
If you want to extend the system and integrate it with your own applications, please use our API Guide.