After assigning chat accounts to your support agents in Live Chat Settings, your next step will be customizing chat widget for integration on any page(s) of your website.
Go to Administration » Widgets » Chat Widget and change required settings to grab the code for further integration.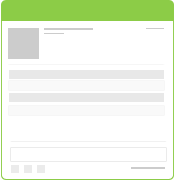 By default, chat widget will popup once you are online. In case any issues, please make sure you use valid protocol. For SSL support, please turn it on at Live Chat settings.
Chat Widget to Use in Community
You can use chat widget right on your community pages, so if customer won't find the answer in your help center, he would initiate chat session with support agent.
To integrate that option, click on Manageicon at the left Agents Bar and select "External Scripts" where you can put the code of live chat widget.
Integrate Chat Widget to Pop-Up on Click
If you want to initiate chat widget on link click that is located at contacts or other page of your website, follow below instructions.
Add live chat code on that page taken from Administration » Widget » Chat Widget
Add similar link but with your title in the required place:
<a class="live-chat-link" href="#">Live Chat</a>

Add inline javascript on that page or to your js file:
<script type="text/javascript">
      $('.live-chat-link').on('click', function(e) {
          e.preventDefault();
          $('#ur-chat-open').trigger('click');
       });
</script>

You can modify the code to use your own id or class in the link and javascript.
If you want for the widget to be hidden even when support agents are online, add following inline style or to your css file:
 <style>
     #ur-chat:not(.chat-opened) {
          display: none !important;
      }
</style>